I am aware that when people ask this question, more often than not they ask it with good intentions. They're probably curious, trying to make conversation with a new mom, and don't think there's anything wrong with it.

Now that I've been through my own struggle, I will never ask a mom this question: "Are you nursing?"

For a lot of women, it probably wouldn't be offensive or hurtful. But for mothers aren't able to breastfeed, it's a question they dread hearing.

For me personally, I don't want to have to drudge up my whole awful experience, especially over and over again. I've already told it a million times - as if I have to justify why my baby is drinking from a bottle. If you see me bottle feeding my child, then obviously we're not exclusively nursing. Why make me relive my struggle?

When I was pregnant people would ask if I planned on nursing, and it didn't bother me a bit. Back then I assumed I would be exclusively breastfeeding and I'd be happy to discuss.

Now that I have been through weeks of struggling to get my tongue-tied son to latch and my milk not coming in, I hate that question. I realize now how personal it is.

It automatically puts me on the defensive. Like I have to explain every detail of how hard we tried to get our son to nurse, and all the obstacles that stood in our way, and how our doctors recommended what we are currently doing. I shouldn't need to explain any of that to anyone - my kid is being fed, that's all that matters.

So why do I still feel shamed when asked that question?

Be gentle with new parents. They are overwhelmed, exhausted, and whether you mean for it to be or not, don't need to feel like they're getting the third degree about how they're feeding their new baby. A lot of parents try very hard to exclusively breastfeed and it just doesn't work out. If they're like me, it was a heartbreaking experience.

Ask anything else... "How are you feeling?" "Can we make you some dinners?" "Is there anything you need?" or even "Do you want to talk about it?"

Tread lightly - new parents have enough on their plate.

I opened my Instagram and read through the comments on the perfectly edited pictures of my week old son.

"Your life is perfect!"… "I'm so jealous of your life!"

I felt like a fraud – every picture and post on social media was a beautiful moment captured and the perfect filter added to it. What I should have posted was a picture of me, sitting in bed sobbing trying to get my son to breastfeed while my husband Matt kicked out all of our friends who came to meet our son, Oliver.

Since the moment I got pregnant I had my heart set on exclusively breastfeeding. I watched documentaries and read articles about the health benefits and the amazing bond it creates with your baby.

Every site I read, every book I read, every video I watched told me that the best thing for your baby is to breastfeed. Over 9 months of preparing for the birth of my son, I felt more and more a tremendous amount of pressure to breastfeed. Everywhere I looked it was "breast is best."

The clinch hitter for me was a documentary called "The Milky Way." After watching it, it seemed so clear to me that all you really have to do to be successful at breastfeeding is just stick with it – don't give up easily and it will eventually come. It was all about how women are led to believe they aren't capable of breastfeeding – that formula companies and hospitals are out to make money, and you are doing a disservice to your child if you aren't breastfeeding.

It's what women were built to do – it was nature. We were designed to feed our children. If we had the right support, the right tools and the right care – we could breastfeed, and it would be amazing.

I was on the band wagon – I was going to be the mom who went the extra mile to breastfeed, to never feed my baby formula – to not buy into the big, bad formula company's marketing ploy that their poisonous, chemical-filled products that would make my baby obese and stupid.

After 5 days in labor and a difficult delivery the moment finally arrived when they put my son on my chest and we spent an hour skin-to-skin. He latched onto my breast immediately and I thought, "This is perfection. He's going to be so easy to breastfeed, I am so lucky." I felt the bond. I felt the connection, and it was everything I thought it would be.

Then the bubble burst. We spent 36 hours in the hospital with Oliver after he was born and had multiple nurses come in and try to help me breastfeed. While they all had good intentions, none of them really had the time to dedicate to getting him to latch. Each one gave different advice, and I felt overwhelmed and confused.

I couldn't understand – why did he latch immediately in the delivery room and now refuse to breastfeed? The nurses all said the same thing – babies are on an adrenaline high when they're born – many of them latch right after delivery and then have trouble once they've calmed down. I was frustrated, but all my reading and research had taught me not to give up – my baby was going to be exclusively breastfed.

When we got home, Oliver would latch for a few minutes and either fall asleep or scream at my breast. It was a little victory every time I got him to latch – and I would love that moment of connection. It never lasted long, he would eventually pull away or just drift off to sleep. I was starting to worry – why couldn't I do this? Was he just not hungry? We called the public health nurse who was able to come in the next day.

Oliver was four days old when the nurse came to the house. He was 8 pounds 2 ounces when he was born, and 7 pounds 5 ounces when the nurse weighed him. He had lost almost a pound, a 10th of his body weight, which alarmed the nurse. We sat in our living room and went through what we had been doing, only to discover that while it looked like he was latched, he wasn't actually eating anything. He was suckling but not swallowing anything. I wanted to puke, faint, sob and curl into a ball and die. My child had barely eaten in 4 days – I had never felt worse in my entire life.

The nurse stayed with us for over two hours and it was a battle to get him to eat. He couldn't latch well because he was tongue-tied; meaning the connecting skin under Oliver's tongue was short and extended too far toward the front of his tongue. The nurse assured us it happens to a lot of babies, and can make it difficult to latch onto the breast.

On top of that, my milk wasn't coming in. I sat with the nurse and squeezed what milk I could get out of my breast onto a spoon and she shoveled it into his mouth. She recommended that until we could get his tongue fixed and for my milk to come in we should supplement with – the dreaded – formula. He needed to gain weight and he just wasn't going to get it from me.

My heart sank. I had failed. Four days into being a mother and I had totally and completely failed. Logically I knew this wasn't my fault. But emotionally, I was gutted. The nurse recommended pumping and expressing as much breast milk as I could and then topping up with formula. She gave me a nipple guard to put on my breast that would make it easier for him to latch – and we had some new techniques to try and get him to breastfeed.

Over the next week, Matt and I put a stop to all visitors. We messaged everyone who had planned to come over to meet the baby and told them we needed some time to get his weight back up… and for me to emotionally recover from the massive breakdown I had.

Our new routine was to feed him every 2 – 3 hours, first trying to get him to latch to the breast, then bottle feeding him what I could pump, and then giving him formula until he was full.

We dragged our mattress into the living room to be close to the best breastfeeding chair and for 3 days we were on a round the clock breastfeeding mission – trying to get him to latch and pumping, waking him up to feed him – we were a very tired, but well-oiled machine.

Mentally it was completely exhausting. Matt and I would prepare ourselves for inevitable failure as we got the nursing pillow ready and did everything we could to get Oliver to latch. For a half hour we would watch him turn red screaming at my breast until eventually we gave him a bottle and watched him sigh in relief as he ate.

We tracked every feeding, how much he ate, how long we tried to get him to latch, if he did latch, if he didn't, what positions we tried, how much he ate, how long I pumped, how much I pumped – pages and pages of data to show the nurse for when she came back.

Despite our efforts, Oliver would just scream and scream at my breast. What was supposed to be our amazing bonding experience turned into a gut-wrenching experience. He was only a week old, and he already knew that he wasn't going to get anything good from my breast, and that as soon as he had a bottle it would be instant gratification.

When the nurse came back, I sat in the living room and sobbed. She looked at me with pity in her eyes as Matt came and sat down next to me and held me. I was completely devastated. I was in mourning. Mourning over the loss of the breastfeeding experience I so desperately wanted. She recommended that we have his tongue fixed, and that I start on some herbal supplements in order to increase my milk production.

We went to see the OB who delivered Oliver and she gave us a referral to get Oliver's tongue "fixed." I specifically didn't plan on having him circumcised because I feel it's unnecessary – and now I was going to have my son's tongue clipped in the same way. I felt as gross about the procedure as not being able to breast feed. I thought to myself, "Am I seriously going to mutilate my son so he'll eat the way I think he's supposed to?" It seemed like a dramatic thought, but we were told the procedure was not a big deal. But it felt like a big deal.

A week later we went back in to see our GP. While we were waiting to see her I took Oliver to the washroom to change him, and fed him a bottle while I was in there, embarrassed to feed our two-week-old formula in the waiting room. I didn't want anyone to think I was a bad mother. I couldn't explain to staring strangers that I tried to breastfeed, but I just couldn't.

We went in to see the doctor and had a long talk with her about breastfeeding, and about the pressures of "breast is best." She was empathetic to my distress, and assured me that at the end of the day, "fed is best." Oliver was gaining weight and that was all that mattered. We talked about a prescription to increase my milk production, but I couldn't take it.

In 2012 I was diagnosed with clinical depression, and had been on Cipralex ever since. In summer 2014, knowing that the following year Matt and I were going to try and start our family, I tried to come off it. It went poorly. My doctors opted to keep me on it throughout my pregnancy, assuring me that many women do so and there are no known risks to the baby. It weighed heavily on me throughout the pregnancy. I worried that Oliver would have withdrawals when he was born. As if I didn't feel guilty about it enough already, now it was keeping me from increasing my milk production - I couldn't take what I needed for milk production and Cipralex at the same time.

On top of all of this, I own my own company, and could only take two weeks off before having to start working again. Luckily I work from home, and my husband was able to take 35 weeks of parental leave. Even if we did get his tongue fixed, I didn't have the time to devote to getting him to latch that mom's who had a year off would – what would the pressure do to my mental health? How much stress would be on Oliver? Since Oliver would have to be topped up with formula - would he be able to go back and forth between the bottle and the breast?

After much discussion with our doctor, we finally relented. Oliver was going to be bottle-fed – a mix of breast milk and formula. He would still get the nutrients and antibodies, but he would need formula in order to be fed enough. I hated pumping, every second of it. It was an uncomfortable reminder that my son couldn't latch, and we were missing out on the bonding of breastfeeding.

We talked about the tongue clipping procedure and I just couldn't stomach it. Our GP wasn't confident he would go back to the breast after being bottle fed for so long, especially now that he had it in his head that bottle meant easy feeding. We could try, but there were no guarantees that the procedure would mean he would breastfeed.

We decided not to get his tongue clipped – it seemed unnecessary now that he was bottle-feeding. I couldn't produce enough milk, and mentally and emotionally it was too much for all of us – I was going back to work and needed to provide for our family. Oliver and Matt would always be in close proximity, but breastfeeding just wasn't going to happen.

We were so lucky to have so many people support us – our friends and family were constantly encouraging us, telling us we were doing what was best for Oliver, and not to worry about bottle-feeding and formula vs. "breast is best." I read so many reassuring stories about women who had similar experiences, and slowly I started to feel less guilty.

The best encouragement I got was from my friend Carolyne, who sent me a snapshot of her friend's Instagram post. It read:

"I've been going through photos for Maggie's first birthday party next week when I came across this photo. I wish I could have seen this photo for what it really was when I was struggling with breastfeeding. I had my heart set on breastfeeding, when I was pregnant I would imagine myself feeding my baby and when I struggled with it, it broke my heart. I think bottle-feeding is just as beautiful and bonding as breastfeeding. I wish I could go back in time and tell myself that what matters is feeding your baby and not how you feed your baby."

I cried as I read her friend's post and the message she sent with it – words of love, support and encouragement – assuring me that Matt and Oliver will always love me, no matter how Oli's being fed.

It's what I have to cling to when those feelings of guilt and loss creep up. I have to be grateful that I have a baby, that we were able to conceive and we have this amazing little boy in our lives. I know there are so many couples out there that would give anything to have my dilemma. They're struggling to get pregnant, to adopt – how their baby is fed would be the least of their problems – they just want what we have: a healthy baby.

For all of those parents out there who are struggling – I've been there. I am there. It's overwhelming to have a baby, period. To feel like you've failed as a parent is devastating. I am still mourning the loss of breastfeeding, and I'm allowing myself to be sad about it. But I am not allowing myself to feel defeated.

Our baby is getting breast milk, he's gaining weight, he's healthy and he's cared for. I have special moments with him every day – when I'm holding him, changing him, cuddling with him and yes – bottle feeding him. We have a bond, and nothing will change that. He's my son and I love him. He is so, so loved.

At the end of the day, what else matters?
Powered by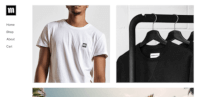 Create your own unique website with customizable templates.